Cruachan – Blood on the Black Robe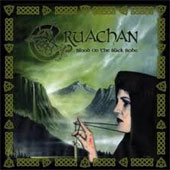 Having gone through a number of changes since its debut in 1995, Ireland's Cruachan has, more or less, ditched the female-vocal pagan metal of their last few albums in favor of a turn back to the Celtic black-metal sound that first put them on the map. While this may be a welcome return to (early) form to some fans, it, unfortunately, has the side effect of discarding a lot of what made the band so interesting.
While not a bad record by any stretch, the biggest issue facing Blood on the Black Robe is its lack of identity. By discarding some of the trademark elements that made Cruachan stand out among the hordes of pagan metal bands on the scene, they have seemingly lumped themselves in with those hordes. Perhaps that's the pagan spirit — gather together and fight as one — but in a genre that is growing larger and more diluted by the day, it could be detrimental for the band.
There are certainly highlights to be found here with "Thy Kingdom Gone" boasting a number of changes while chugging along at a quick pace. "The Voyage of Bran" (which is, surprisingly, not an ode to colon health), shows a great variety of tempos and mixes the screech vocals with clean female vox, recalling Cruachan's heyday.
"Brian Boru's March" is a classic pagan instrumental, loaded with traditional-sounding melodies and evoking images of the Ireland of old. "Pagan Hate" is a great fast track, though it is never pushed into blast beat territory, which would seem to have been a great addition to the song. While overused by many extreme bands, a well-placed blast can take a fast song into the stratosphere.
Lyrically, we see many of the usual pagan themes, most notably the battle between pagans and Christians, or, perhaps, Catholics. What is strange is hearing them sung in English. While far from poorly written, understanding the lyrics takes away the air of mystery and poetry that is carried by many of the non-English speaking bands. It's easier to imagine Shakespeare-like wordsmithing when the lyrics are in a foreign tongue. Perhaps an album entirely in Gaelic would be a fitting experiment and celebration of Cruachan's Celtic roots.
As noted, the pagan metal world is expanding at a staggering rate. It would seem the appeal of reliving and celebrating the pre-Christian world is popular among today's newest metal recruits. But in order to remain important, the forefathers of the genre need to stay interesting. For Cruachan, returning to the sound they initially dabbled in just doesn't appear to be the way to do it.
Genre: Celtic Metal
Band:
Keith Fay (guitars, keyboards, vocals, bodhrán, mandolin, percussion)
John Clohessy (bass)
Colin Purcell (drums, percussion)
John Ryan Will (tin whistle, violin, banjo, bouzouki, keyboards)
John O' Fathaigh (tin whistle)
Track Listing:
1. To War
2. I Am Warrior
3. The Column
4. Thy Kingdome Gone
5. A Bean Sidhe
6. Blood on the Black Robe
7. Primeval Odium
8. The Voyage of Bran
9. Brian Boru's March
10. Pagan Hate
11. The Nine Years War
Cruachan
Blood on the Black Robe
Candlelight
Release Date: 4/19/2011